Heidelberg
Heidelberg is an 800-year-old university town with 150.000 inhabitants. The famous castle, the old city center and its location at the Neckar River at the foot of the Odenwald make Heidelberg one of Germany's most popular tourist destinations, especially for visitors from overseas.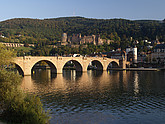 Heidelberg's history as well as its world-wide recognition have been significantly shaped by the Ruperto Carola, Germany's oldest university, which celebrated its 630th anniversary in 2016. Currently more than 30.000 students from 130 different countries are studying at Heidelberg University. Overall 20% of all students and 35% percent of all PhD candidates come from abroad. The high number of international students, researchers and scientists studying and working in Heidelberg accounts for the city's multicultural and cosmopolitan atmosphere.
The city has a vibrant student life and offers numerous possibilities to meet up with like-minded people. There are a number of student groups in various fields of interest. These groups range from political parties, NGO's and religious student groups to literature clubs, a debating society, the university orchestra and several choirs. Heidelberg's student newspaper is one of Germany's largest student-run newspapers. Moreover, the Heidelberg University offers a broad variety of athletics, such as teams in various court sports and courses in diverse disciplines such as martial arts, swimming, dancing and yoga.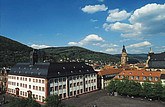 The "Studentenwerk" (student services) is an important institution independent from Heidelberg University. It is mutually funded by all students and supports them in all questions concerning life and studies, i.e., housing, finance and social care. The "Studentenwerk" also operates several student residence halls in different parts of the city. 40 – 50% of the rooms are reserved for international students, including students of this joint degree program. Rents vary between € 160,- and 250,-. In general the monthly rent for a private room in Heidelberg is rather expensive, ranging from € 210,- to € 350,-. Furthermore, at the beginning of every winter term there is a run on the limited accommodation available, so it is worthwhile to plan ahead.
Heidelberg has a well-established public transportation system which grants mobility throughout the city and connects it to Mannheim, Ludwigshafen and the wider metropolitan area. A student ticket can be obtained for € 165,- per semester. The central service facilities of Heidelberg University and most of its other institutions are in general quite close to each other and can easily be reached by bicycle.
Heidelberg Centre for Transcultural Studies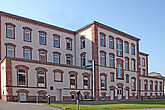 Founded in April 2013, the Heidelberg Centre for Transcultural Studies (HCTS) is a central institute of Heidelberg University situated at the Karl Jaspers Centre. Building on the structures established by the Cluster of Excellence "Asia and Europe in a Global Context", it assembles outstanding scholars from all over the world and from any discipline to engage in an interdisciplinary dialogue with a focus on the dynamics of global transcultural processes between and within Asia and Europe.
Home to five permanent fellows, the HCTS Professors, working in fields that cut across conventional disciplinary and nation-state borders and host to a Master and a Graduate Programmein Transcultural Studies, the HCTS offers a vibrant international environment for students and junior scholars in the humanities and the social sciences. The research of permanent and temporary fellows centres on themed initiatives. Furthermore, the HCTS engages in a number of activities such as library talks, seminars and workshops as well as open lectures.
Heidelberg University Office, Kyoto (HUOK)
The opening of liaison offices on each other's campuses expresses the close cooperation between Heidelberg University and Kyoto University, dating back to the 1990s. Established in 2015, the Heidelberg University Office, Kyoto (HUOK) promotes Heidelberg University's activities in research and education in Japan and East Asia. Its information center on the ground floor of the Yoshida International House, located on the southern main campus of Kyoto University, is available to Japanese and international students who would like to study at Heidelberg University. Joint Degree students are encouraged to visit the office with practical concerns about student life in Heidelberg.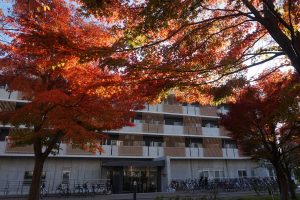 As a liaison office in Japan the HUOK supports activities of the German-Japanese university consortium HeKKSaGOn. The alliance was founded in 2010 as an association of three German and three Japanese universities: Heidelberg University, University of Göttingen, Karlsruhe Institute of Technology, Kyoto University, Osaka University, and Tohoku University. Together with its counterpart in Heidelberg, the Kyoto University European Center, the office organizes joint lectures and many other events.
Kyoto University European Center in Heidelberg
Located near the old lecture hall of Heidelberg University, the Kyoto University European Center in Heidelberg was established a year before its counterpart in Kyoto. The primary functions of the centre office are to support the university's research and education activities in Europe, promote the internationalization of faculty and students, and enhance the university's international public relations, industry-government-academia collaboration, and international networks.
Students from Kyoto are welcome to visit the office and take part in its events, for example its "Stammtisch" (Get Together).