Former Academic Staff
---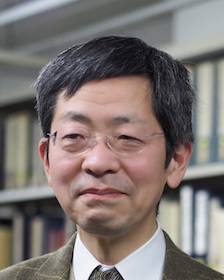 Position
Professor (retired)
Founder of Division
---
HIRATA Shōji is the founder of the program. His personal background is in Chinese Literature and Intellectual History.
---
M.A. in Chinese Language & Literature, Graduate School of Letters, Kyoto University
Chinese Literature, Intellectual History of Modern and Contemporary China, Chinese Historical Linguistics, Chinese Philology
China, Chinese Language, Intellectual History, Literary Revolution
I was trained as a student of the Classical Chinese literature in Kyoto University. Three years after the Cultural Revolution ended, I had a chance to stay in Nanjing University as a visiting student (1979-1981), started linguistic field research of Huizhou dialects in mountainous areas of Anhui, and inevitably watched the process of gradual and critical decline of beautiful mountainous villages as a result of Reform and Opening-up Policy.
In the early 1990s, I found out an unnoticed correlation between the diachronic changes of Chinese Civil Examination and the linguistic diversity of dialects, and launched to write a series of articles which were compiled into a book titled Wénhuà zhìdù hé Hànyŭ shĭ (Cultural Institution and the History of Chinese Language) after a quarter of century struggle.
Recently my interests have focused on intellectual history of 19-20th century China, especially scholars such as Zhang Binglin (1868-1936), Hu Shih (1891-1962) and the Post-Cultural Revolution intellectuals of the 1980s and 1990s.
2000 – 2020
Professor, Graduate School of Letters, Kyoto University
1989 – 2000
Associate Professor, Graduate School of Letters, Kyoto University
1985 – 1989
Associate Professor, Faculty of Humanities, Yamaguchi University
1981 – 1985
Assistant Professor, Institute for Research in Humanities, Kyoto University
[1] Hirata, S. (2016) Wénhuà zhìdù hé Hànyŭ shĭ (Cultural Institution and the History of Chinese Language), Beijing: Peking University Press. (in Chinese)
[2] Hirata, S. (2016) "Let Us Abandon 'Benevolence, Righteousness, Ritual Propriety, and Wisdom': The Emergence of the Institute of History and Philology, Academia Sinica," Acta Asiatica, 110, 99-118. (Eng. tr. by Rolf W. Giebel)
[3] Hirata, S. (2009) Sonshi: Kaitō no nai heihō (Sūnzĭ: The Art of War without Correct Solution), Tokyo: Iwanami Shoten. (in Japanese)
[4] Hirata, S. (2008) "Shěnshì wénběn: Dú Xĭngshì Yīnyuánzhuàn (Looking Closely at Text: Reading Xĭngshì Yīnyuánzhuàn," Qīngdài Wénxuě Jíkān, vol.1, Běijīng: Rénmín Wénxué Chūbănshè, 57-65. (in Chinese)
[5] Hirata, S. (2008) "Mùxià Xītán xuéxì hé 'Zhōngguó Wénxuéshĭ' de xíngchéng (The Kinoshita Saitan School and the Genesis of 'History of Chinese Literature')," Xiàndài Zhōngguó, vol.10, Běijīng: Peking University Press, 1-22 (in Chinese)
[6] Hirata, S. (2008) "Ko Teki to Vikutorian Amerika (Hu Shih and Victorian America), Tōhō-gaku, 115, 1-18. (in Japanese)
[7] Hirata, S. et al. (1998) Huīzhōu Fāngyán Yánjiū (Studies on the Huīzhōu Dialects), Tokyo: Kōbun Shuppan. (in Chinese)
[8] Hirata, S. (1988) "Mĭnběi fāngyán "dì jiŭdiào" de xìngzhì (The Nature of the Ninth Tone in the Northern Min Dialect)," Fāngyán, 1988.1, (in Chinese)